We didn't have a topic for this, and I hope it fits alright in the Street Photography Section, but I wanted to post some images from the Dallas Shooting that I captured last night.
Still working on how exactly you curate your Instagram feed so, so far I've only posted 9 images from last night, I'll update my flickr feed later tonight when I get home, because with public transportation at a stand still I had to rely on a good natured friend to help pull me out of the perimeter the police had set up, and I didn't get home until 1, asleep around 4, and I'm about dead tired now. I'm including one image that I think captured the chaos of the moment the shots rang out, and including a link to instagram feed. I'll update my flickr later, like I said, but my initial cull is at 78 images and I feel the story can be told in far less than that so I need another cull for a full flickr album.
CC is welcome. Hard to know exactly where to point your camera when gun shots are coming from both directions.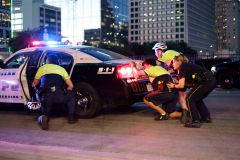 All images where captured with either the X-Pro1 with the 35 ƒ1.4 or the XT1 with either the 14 ƒ2.8 or the 60 ƒ2.4; processed in LR, Pro Neg Hi, beef up the contrast a little, and in some cases pull back on the shadows/darks a tad.
Told ya'll I was tired...forgot the instagram link.
Edited by CRAusmus, 08 July 2016 - 06:20 PM.